Feeling good about the community
 ...  you live in can be just as important as selecting the right home.
As a local expert, I can help you find a neighborhood that best suits your needs. From local restaurants and activities to school information and market trends, explore the communities I serve below.
Community involvement is very important. As a Realtor, I value the ability to give back. I also feel it is important to highlight local organizations that need our support. By bringing these valuable organizations to the forefront, it allows me to introduce the organizations to my clients and their sphere of influence, so that they can in turn get involved and support them.
I am excited to share how I do this!
In 2018, I partnered with WAITT An acronym for We're All In This Together, W.A.I.T.T brings small businesses and small organizations together through mindful, cause marketing. By giving a platform of communication through donations, sharing and gratitude, it allows the businesses to feature their goods and services, while supporting and shedding light on a small, most times, little known organization, charitable or otherwise The result is that people in the community learning about the businesses and organizations that they otherwise would not have. It's a WIN-WIN-WIN!
Each month I will share the organizations that I am contributing to. I share short informational videos, blog, or simply share them on Social Media to spread the word.

If you are looking to list your home, and want to feature a local organization, I will feature that organization as part of the listing and donate a percentage of my commission to that organization.


I'm proud to share my December Giving Calendar: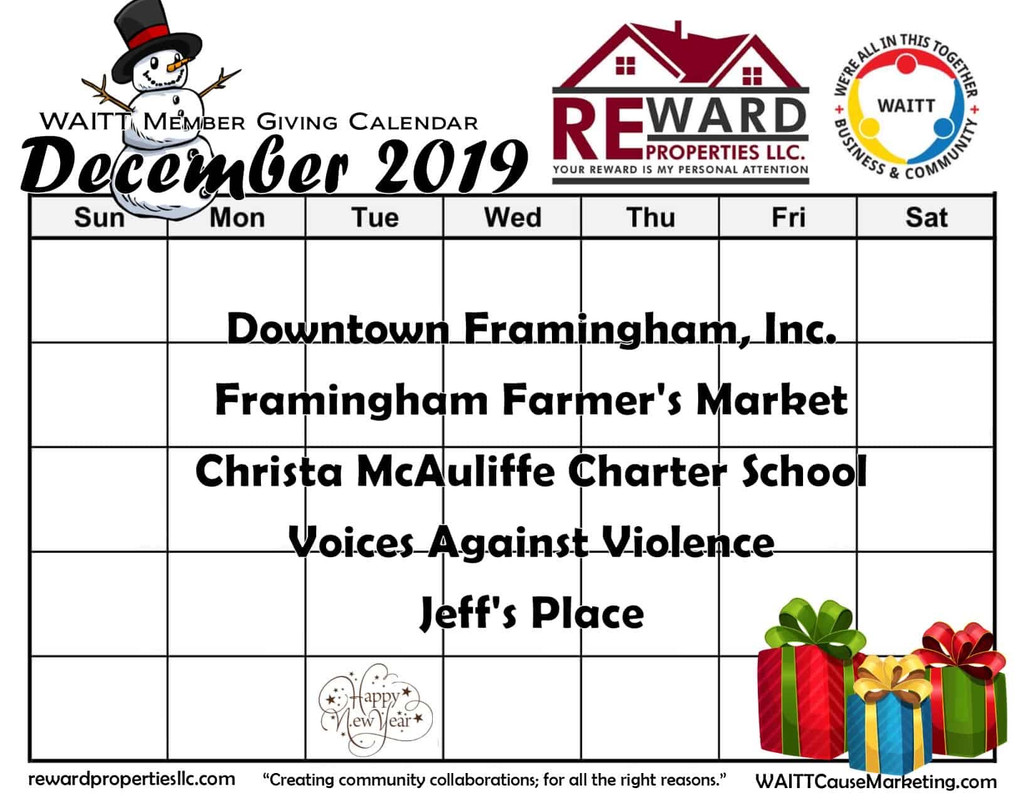 Dowtown Framingham Inc.
Apply the four tenets of the Main Streets America Model, to include economic vitality, promotion, design, and organization.   This is holistically demonstrated in our people-ready amenities and business-ready infrastructure.

Continuously catalyze growth in our walkable, urban core by implementing policies and plans that introduce viable trends in community and economic development. Outcomes include 1) strengthening community relationships, 2) delivering habit-forming, positive sensory experiences, and 3) encouraging small-business patronage from local neighbors.
Fulfill the strategic merits of Transit-Oriented Development and Complete Streets policies, working directly with residents, government officials, and private stakeholders. Learn more about Downtown Framingham


Framingham Farmers' Market
MISSION -  To bring local produce, meat, fish, and other artisan groups together in the community. It is our goal to bring the Framingham community together to support our local businesses all summer long. Shop local!  Learn more about Framingham Farmer's Market


Christa McAuliffe Charter School
MISSION -  To cultivate within each member of a diverse student body, through the Expeditionary Learning design, an intense commitment to self and community, the courage and insight to set high standards for academic and personal success, and the knowledge, skills, and attitudes to achieve those standards. Learn more about Christa McAuliffe Charter School

Voices Against Violence
MISSION -  To end sexual and domestic violence. Voices staff members work to empower victims and survivors to help themselves and their children. Program Advocates work in partnership with individuals and families to ensure their safety, create stable home environments, gain independence, and to develop personal and economic self-sufficiency. Voices is also a social change organization, working toward the elimination of violence on a societal level through community education, primary prevention and increased public awareness and action. Voices also works in close collaboration with public safety and criminal justice professionals throughout the region. Learn more about Voices Against Violence
Jeff's Place
MISSION - To lead the way in ensuring that all children, teens, and families experience a healthy grieving process in a supportive environment. Learn more about Jeff's Place


Learn more about the Rifles to Rods ... one of my November organizations I supported: 
p>


Learn more about the Ashland Community Theater ... one of my November organizations I supported: 
I'm proud to share my November Giving Calendar: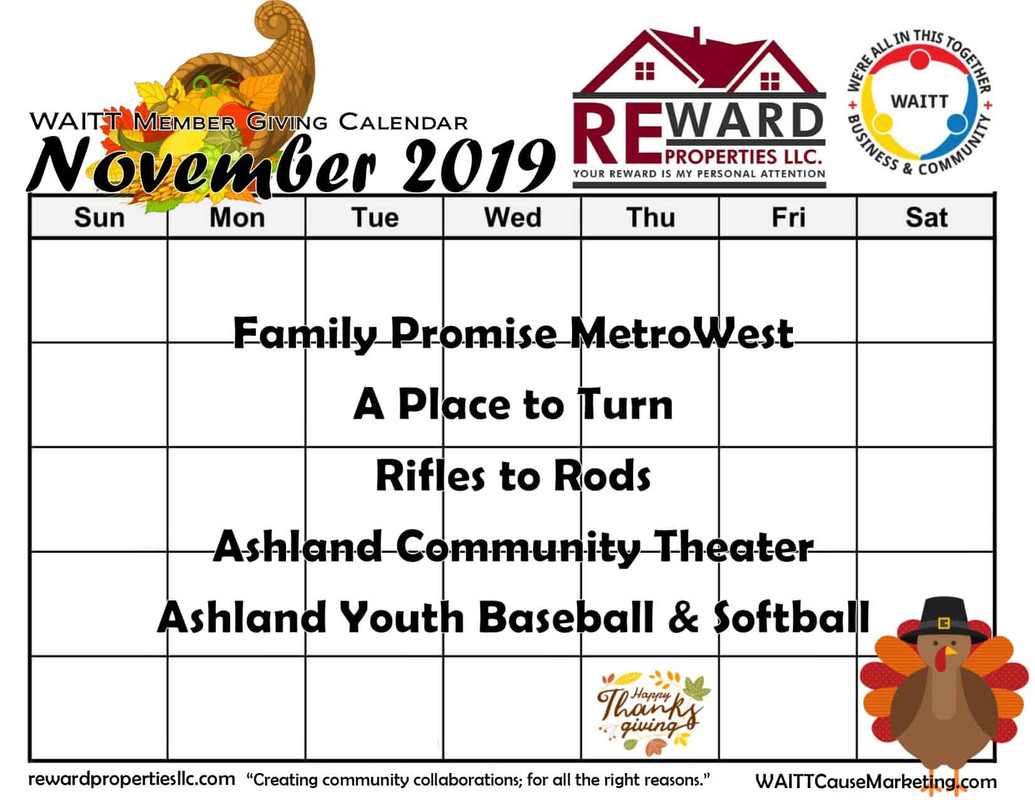 Family Promise MetroWest:
MISSION--To transform the lives of families with children who are homeless by mobilizing a diverse community to provide shelter, education, and comprehensive support. Learn more about Family Promise Metrowest...
A Place to Turn:

A Place To Turn was established in 1979. The founders were among the first to recognize that economic hardship exists in the suburbs and is not exclusively an urban problem. The food pantry began as a fledgling entity in the basement of a private home, moved briefly to St. Patrick Church in Natick, and in 1981 settled at its present location in a small cape on the grounds of the Hartford Street Presbyterian Church in Natick. 
Learn more about A Place to Turn ...
Rifles to Rods:
MISSION -- Preserving the well being of veterans through fishing. Rifles to Rods is a 501(c)(3) non-profit organization devoted to the transition, recovery and well being of our Veterans.  At Rifles to Rods we use fishing as a therapeutic outlet to aid Veterans with their transition back into society.  As we like to say, Fishing IS Therapy.  Learn more about Rifles to Rods...


Ashland Community Theater:
MISSION -- Be an open group that accepts and welcomes all people who are interested  in being part of Theater, Film and Community.
 - Produce two quality theater productions per year that entertain, enrich, and educate Ashland, MA and its surrounding communities
 - Partner with WACA-TV to produce film and video projects that that entertain, enrich, and educate Ashland, MA and its  surrounding communities
 - Afford an opportunity for adults and teens interested in acting, directing, writing, and stage work
 - Encourage the creation of original material revolving around social issues and values pertinent to our lives and community
 - Provide a creative outlet for community building and involvement  Learn more about Ashland Community Theater...
Ashland Youth Baseball & Softball:

Ashland Youth Baseball & Softball (AYBS) is a non-profit, volunteer-run organization dedicated to providing the youth of Ashland with opportunities to play tee-ball, baseball and softball in a safe, supportive environment.  AYBS aspires to be an outstanding educational-athletic organization that provides a high-quality experience, in which every athlete:
Is coached using the principles of the Little League Double-Goal Coach, where winning is an objective but more importantly life skills are taught

Has fun playing the game

Feels like an important part of the team regardless of performance

Learns "life lessons" that have value beyond the playing field

Learns the skills, tactics and strategies of the game and improves as a player.
 We recognize coaches most directly make this possible, so we provide all coaches with the tools to succeed as Little League Double-Goal Coaches. We are committed to creating a culture in which coaches, parents, fans, umpires and athletes work together to achieve our mission. Learn more about Ashland Youth Baseball & Softball ...